There aren't enough f&%ks in my vocabulary
Earlier today I posted this Tweet:
There aren't enough f&%ks in my vocabulary to express how I feel today about pretty much everything humans are doing to each other, to every living thing, and to this once and future remarkable planet.
I am just exhausted by pretty much everything humans do that is f&%ked. And just about everything humans do is f&%ked.
Okay?
My bad mood started small about two months ago, when I read the quote below from our local Santa Barbara "Community Environmental Council," (CEC) as it appeared in a letter to the editor in our local paper, The Independent:
"In the wake of the hottest July ever documented, the urgency of addressing extreme heat is real. And the alarming reality of climate change is hitting closer than ever to home, as Ventura County recently ranked as the fastest warming county in the contiguous U.S., closely trailed by Santa Barbara and San Luis Obispo counties."
The CEC then re-posted their letter here and here.
I'm someone who values facts, and this just didn't look right. Ventura ranked as the fastest warming county in the contiguous U.S.?  No way! I did a bit of Google "research" and found an article published in the Washington Post that seemed like it might be their source. On August 28th, I emailed their CEO, Sigrid Wright, and asked. I got back the following response:
Eliot – the source is this Washington Post article written by Scott Wilson. The Washington Post team won a Pulitzer Prize for this series of climate articles.
Here's the quote from the 2018 Washington Post article above that was referenced by Sigrid and the CEC as the basis for their claim:
Since 1895, the average temperature in Santa Barbara County has warmed by 2.3 degrees Celsius (4.1 degrees Fahrenheit), according to The Post's analysis. Neighboring Ventura County has heated up even more rapidly. With an average temperature increase of 2.6 degrees Celsius (4.7 degrees Fahrenheit) since preindustrial times, Ventura ranks as the fastest-warming county in the Lower 48 states.
I hope you can see right through CEC's misuse. From 1895 to 2018, Ventura warmed the most of any county. This says absolutely nothing about Ventura County being the fastest warming at the moment. It doesn't say when the bulk of the warming took place or anything else about the timing of the warming. It is not a statement about what's going on right now with current warming in the second half of 2023 or over some recent span of years. It is a one-off statement about total warming over a cherry picked period of time.
I wrote back to Sigrid explaining the errors as follows:
First, the article references the single year 1895. As you know, the IPCC uses the 50-year baseline 1850-1900 for measuring temperatures. Going forward, they always use 30-year averages to measure current climate. Right now we are using the 1991-2020 baseline. It is important to use a multi-year baseline because single-year temperature anomalies may skew results dramatically. 
Because this article uses the single year 1895 as its baseline, it is impossible to take this result as definitive. That may have been a particularly cold year for Ventura county due to a La Nina (for example), making the long term average look abnormally high. Or it could have just been a freakishly cold year for any other reason and the conclusion about long term warming is void.
Regardless, no climate science I am aware of uses a single-year baseline for anything having to do with measuring long-term warming.
Next, the sentence gives the sense that this is the current state of things, that Ventura county is warming fastest right now. But that's not at all the conclusion you can draw from that WaPo article.  Total warming since 1895 has very little to do with instantaneous warming now.  I don't know which county is warming fastest right now (or in the last 30 years), but the article certainly does not say it is Ventura.
Third, this article is up to 2018. A lot has changed on the planet in the last 5 years as far as the climate. Just look at this year with record global temperatures, record global sea surface temperatures, record low Antarctic sea ice, etc. There is not much about the climate up to 2018 that I would confidently extrapolate to 2023, especially a statement about the current warming rate of a particular county.
The response? Crickets.
f&%k.
So I did a deep dive, and I found the data source that the WaPo used in their article. It's a fantastic tool from NOAA that lets anyone research the total warming by county. Check it out here:
https://www.ncei.noaa.gov/access/monitoring/climate-at-a-glance/county/mapping/110/tavg/202307/60/rank
As you can see from the image below, Ventura county has nothing like the fastest warming over the last 5 years: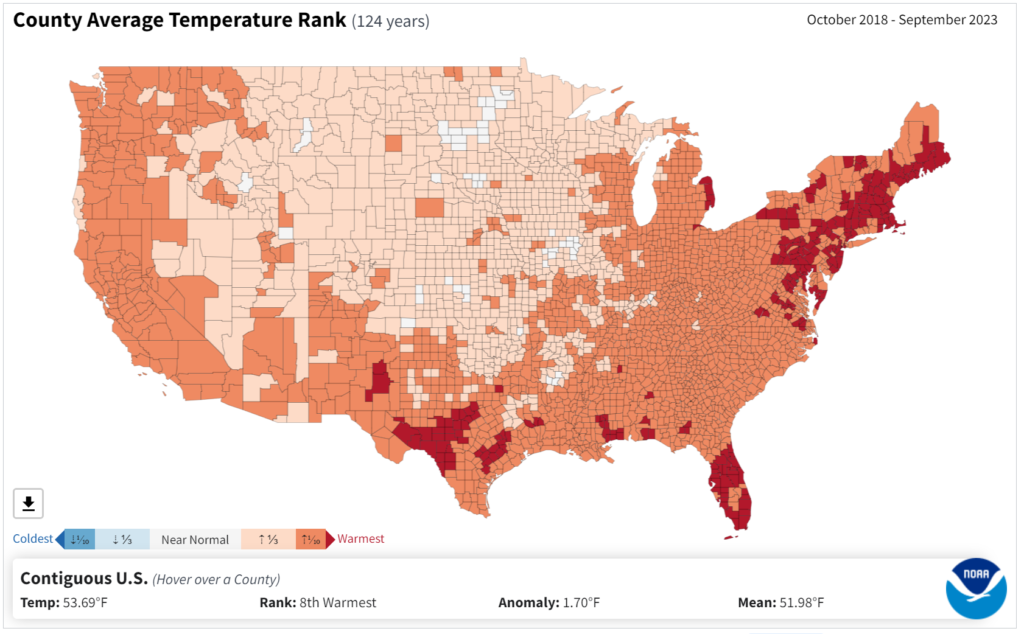 I then went on a deeper deep dive and downloaded their CSV data. This showed the warming by county over the last 5 years (October, 2018 – September, 2023) compared against the 1900-2000 baseline. That's exactly how it should be done — compare the average of a recent span of years against a long-term baseline.
Here is a screen shot of the top 20 counties in the U.S., after I sorted by "anomaly."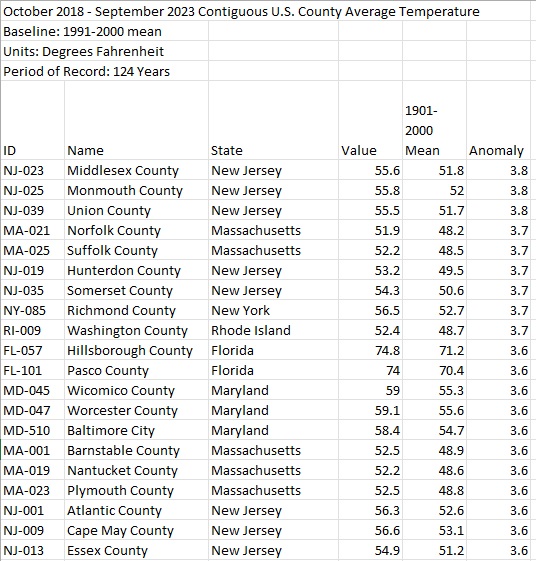 Not only is Ventura county not in the top spot, but no county in California is even in the top 20. In fact, with respect to the recent 2018-2023 temperature gain against the 1901-2000 baseline, Ventura county is tied with Santa Barbara county for the 301-st fastest warming county in the contiguous United States, having warmed 2.6°F over the 1901-2000 baseline.
f&%k.
Here is the data in an Excel spreadsheet if you want to look at it for yourself:
https://climatecasino.net/wp-content/uploads/2023/10/Warming_By_County_in_Contiguous_US.xlsx
Now lets look at the top 10 warming counties in California in this data:

From this we see it's not even the case that Ventura or Santa Barbara rank 1-st in the state, or 1-st along the coast. Nothing.
f&%k.
Anyway, I sent a few images and the link to the NOAA site above in an email to Sigrid explaining again that the claim was not valid. No response.
f&%k.
But then a few weeks later there it was again. This time the CEC used this fictitious claim in a fundraising letter, sent out September 28th:
Our region is at the nexus of the climate crisis, a unique intersection of biodiversity, coastal habitats, agriculture, wildfires, droughts, extreme heat, and natural disasters. In recent years, we have grappled with unprecedented extreme weather events, from record-breaking heat waves to storms, flooding, and wildfires. Scientists predict that 2023 will be the hottest year on record globally. Ventura County is warming faster than any other county in the United States, while Santa Barbara and San Luis Obispo Counties are not far behind. Climate change is unfolding faster and more intensely than previously anticipated, demanding immediate action. 
f&%k.
And  just yesterday there was a town hall featuring a local politician, who, according to a friend who attended the meeting, repeated this error.
f&%k.
So, for the last 3 weeks I've been sitting on this. Our local Community Environmental Council is misstating facts to raise money for their cause. Other well-meaning individuals have been taking CEC's misstatement as truth and repeating it. And I've been obsessing over the moral question of whether this was okay to do.
And no, it is not okay. It is a f&%ked thing to do to raise money by misrepresenting that our little tri-county area is the fastest warming in the United States. This is not okay. Sigrid, stop it!  Em, stop it! David, stop it! CEC, stop it! Stop it! Everyone, stop it! This is what tobacco did. This is what Fossil Fuel companies do. And at this point I'll call it what it is, pure 100% f&%kery. People claiming they want to save the planet should do better than this.
And so, yeah, this is one of things that is in my long list of f&%ks — but at least it's one I can write about, and writing helps my very sad state of mind much more than saying f&%kf&%kf&%kf&%kf&%k.
End note (added 10/20/2023). To be complete, linked here is a projection for future US warming. It is one example of many that shows the Central and Southern US as warming fastest in the future.